 We'll Help You Find The Best Commercial Roofing Types For Your Savannah Business Property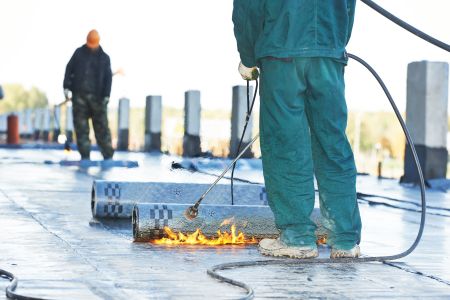 Have you been looking into different commercial roofing types for your Savannah area business? If so, the team of experts here at Professional Roofing Solutions are right here and ready to help! We offer many different types of materials for both our residential and commercial services, and we're sure to have the perfect fit for you and your business. To work with the number one roofing contractor for Savannah homes and businesses, all you need to do is give us a call at 912-667-2225 today!
Here are all the commercial roofing types we can assist you and your Savannah business with:
Commercial asphalt shingles (both architectural and 3-tab!)
Commercial rubber roofing
Commercial flat roofing
Commercial modified bitumen
Commercial metal roofing
Commercial Asphalt Shingles
Asphalt shingles used for both residential and commercial properties alike can generally be placed into two distinct categories: architectural shingles and 3-tab shingles. They're both durable options that offer quality protection against the elements, but there are some distinct differences between the two that can help you determine which will be the best possible fit for your business. We've provided a basic explanation of them both to help get you started, but our team of experts is more than happy to go over your options to help you make a well-informed decision prior to the installation process.
Here are a few facts about commercial asphalt shingles to keep in mind:
They last anywhere from fifteen to thirty years. With proper roof maintenance, you can keep your asphalt shingles strong and healthy for decades to come. If they become irreparably damaged or it's nearing the end of their lifespan, it's a good idea to get them replaced as soon as possible in order to keep your property shielded from the elements.
Sealing your shingles is a must if you live in a windy area. High winds can easily damage or break your shingles clean off, and a protective layer of sealant can help prevent that. Professionally sealing your shingles can also help prevent other types of elemental damage and help keep organic growth from taking up residence on your rooftop.
Architectural Shingles
Architectural shingles differ from their 3-tab counterparts in that they're laminated. Lamination refers to the fact that architectural shingles are composed of at least two basic shingles that have been bonded together to enhance their overall look and feel. These laminated shingles can be manufactured to mimic other highly popular materials, and they come in a wide variety of colors and styles for easy customization.
3-Tab Shingles
3-tab shingles are still a solid option for both homes and businesses, and in most cases, the main reason for choosing architectural shingles over 3-tab is for aesthetic purposes. As we mentioned before, both of these commercial roofing types provide excellent protection for your property, so there isn't a huge difference in function between the two. 3-tab shingles are the more traditional choice, and they're a great cost-effective option if you want something that looks nice and performs its job to the letter.
Commercial Rubber Roofing
Most commercial buildings have either flat or low-sloped rooftops, which makes rubber roofing an excellent choice for Savannah business owners. It may not be the most stylish option out there, but it comes with top-quality benefits that offer incredible protection against the elements. And if you're concerned with how the roofing materials you choose for your business will impact the environment, we're happy to say that rubber roofing is recyclable and sustainable!
Commercial Flat Roofing
Commercial flat roofing can be composed of many different types of materials, and we'll help you select the very best fit for your property. In general, flat roofing is known for its extreme durability, and depending on the type of material selected, it can last you and your business for many more years to come. It's also highly wind and water-resistant, which makes commercial flat roofing perfect for properties in areas that have a lot of inclement weather.
Commercial Modified Bitumen
Modified bitumen is composed of asphalt and polymerized plastic or rubber. It's flexible, tear-resistant, and waterproof, which makes it a fantastic option if you want high-quality protection for your business. It's best suited to flat or low-pitched rooftops, and this material can easily last for well over twenty years with routine roof care and maintenance.
Commercial Metal Roofing
One of the most popular commercial roof types is metal roofing, and there are two primary choices when it comes to this material. The first is standing seam metal: a stylish, easily customizable material that has great protection due to the fact that the fasteners are hidden. It's suitable for a variety of different roof shapes and slopes as well. Corrugated metal roofing is another great choice for energy efficiency and durability, but it's important to note that corrugated metal panels need a higher roof pitch to be properly fitted.