 Roof Storm Damage Repair: Fast Roof Restoration Services In Savannah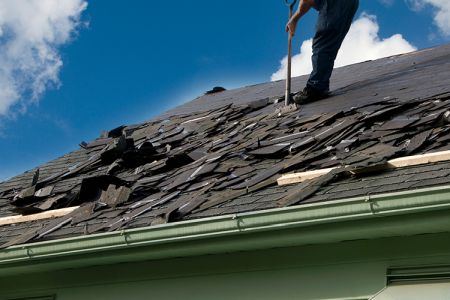 While proper roof maintenance goes a long way toward preserving your Savannah rooftop, there are some things you simply can't predict or always account for. Extreme weather events are one of them, and if you're in need of professional roof storm damage repair for your home or business, then you can always rely on us for help. Dealing with the aftermath of a heavy storm is never easy, especially if your property has sustained damage, but our team of experts will work hard to make the repair process as seamless as possible.
If you're in need of expert roof storm damage repair, give our team a call at 912-667-2225 today. We'll help get your roof back in perfect working order as quickly as we can, and as the leading roofing contractor for Savannah and the surrounding communities, you can rest easy knowing that your home or business is in good hands!
Fixing Wind-Damaged Rooftops
It's always best to work with a pro when it comes to roof storm damage repair, and we'll help fix up your Savannah home or business in no time. Your roof works hard to protect you from the elements, and that means it will sometimes sustain serious damage while performing its job. High winds can easily shake your shingles loose or break them clean off, and prolonged instances of heavy rainfall can wreak absolute havoc on both your rooftop itself and the gutter system attached. Any problems caused by storm damage should be identified and addressed as quickly as possible, and our team will work hard to repair your roof so you can have peace of mind again.
In need of a professional roof inspection after a storm? It's always a good idea to have an expert take a look at your roof after an extreme weather event, and we'll help you determine the best course of action moving forward!
Why You Should Be Proactive When It Comes To Storm Damage And Roof Restoration
Roof storm damage repair and restoration efforts should be tended to as quickly as possible, and the main reason for this is that even minor damage can have a serious impact on the rest of your property. If you're dealing with even a few small gaps or cracks in your rooftop, they can begin to widen and cause even more structural damage later on.
A small leak can turn into a major one if left untreated for too long, and water damage is no laughing matter. Being proactive about repairs can make a whole world of difference in how much of your roof can be salvaged as well as preventing even more damage from occurring.