 Roofing Hinesville GA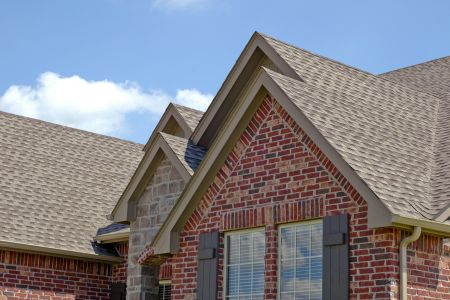 The roof is one of the most critical components of your home. Not only does it keep you safe from the elements, but it also ensures the foundation doesn't crumble due to water damage. This part of a household is something most people take for granted - that is, until it starts causing problems.
Here at Professional Roofing Solutions, we strive to provide both commercial and residential clients with high-quality roofing services. We are a family-owned and operated company with more than 35 years of experience. Whether it's working on a large commercial roofing project or doing simple repairs - there's nothing we can't handle.
Best Roofing Services in Hinesville, GA
We provide both residential and commercial roofing services. No matter what type of roofing work you need, we guarantee we'll do a thorough job at an affordable price. Here are the roofing services you can hire us to do:
Roof Installation
Whether you're a Hinesville (GA) homeowner or a commercial business, installing a new roof is a big investment. To ensure you're not wasting any of your hard-earned money, you need the best roofing contractor in the area. This is where we come in!
In the past three decades, we've worked on hundreds of roof installation projects. We know every aspect of proper roof installation, and we'll work with you to ensure the job is done in a timely manner at a reasonable price. Your roof is the first line of defense against the elements and pests. With a new roof, you'll have a piece of mind knowing you have an expertly installed roof that'll keep you and your loved ones safe.
Besides a piece of mind, a new roof installation comes with other more tangible benefits. Modern roofing materials offer superb energy efficiency, which will help you keep your energy bill low. Moreover, modern materials are more durable, so there'll be less need for roof inspections and maintenance.
Roof Replacement
Whether you're a homeowner or a business owner, a roof replacement is something you're probably not looking forward to. But if your roof is older than 25 years, then it's probably the best idea to conduct a thorough inspection and see if it needs replacing.
In most cases, it's best you replace your old roof. Not only are modern roofing systems more durable, but also provide you with better energy efficiency. This means you'll be saving money in the long run if your install a new roof rather than just repair the old one.
Before any work starts, we'll work with you to ensure you're getting the best roof for your needs that has a better warranty than your old one.
Moreover, if your roof has to be replaced due to damage caused by one of the perils covered by your insurance company, we will work with you during the entire process to ensure the costs get covered as much as possible.
Give us a call today, get a free estimate, and see how we can help. We guarantee superb customer service and top-quality work.
Roof Repairs
The roof is one of the most crucial parts of your house. It's just as critical as the foundation. If the roof gets damaged and you don't repair it in time, you are risking thousands in potential damages.
Even the smallest knick on the shingle can grow into a major leak if you neglect to repair it. This is why we recommend you schedule at least one roof inspection a year. Our roofing technicians will come on by and thoroughly inspect your roof. They'll note any of the parts of the roof that need fixing, and they'll notify you about it. once you give them an Ok, they'll get to work.
When it comes to the quality of the repairs, you can expect nothing less than perfection from our roofing company. We've been in the roofing industry for more than 30 years, so there's no problem we can fix.
If you're a business owner, we especially recommend you schedule regular roof inspections. This way, you won't only ensure your roof is in top-notch condition, but you'll also keep your utility bills down. Commercial roofing is the biggest area where your building is bleeding energy. What's more, regular roof repairs ensure your insurance premiums remain low.
Emergency Roof Repairs
We realize that a catastrophe can hit when you least expect it, which is why we provide emergency repair services. If your house or commercial building gets struck by a devastating storm, hail, or any other type of damage that can't wait for tomorrow - we're here for you.
If your roof needs emergency repairs, all you have to do is give us a call. Our technicians will be at your doorstep in no time, ready to have your roof fixed as soon as possible.
Moreover, if you have an insurance claim, we'll work with you to ensure the insurance company gets all the necessary paperwork and reports in a timely manner.
Signs Your Roof Needs Replacement/Repairs
While it's crucial you schedule a roof inspection at least once a year, it's also smart to know the signs your Hinesville (GA) roof needs repairing. If you see any of the signs below, it's probably time you hire our roofing services. The signs below will help you figure out whether you need roof replacement or repairs. If you ignore any of them, these little problems will grow into large problems that'll cost you thousands to fix.
Missing Or Broken Shingles
If your roof has broken or missing shingles, it's time to call a residential roofing contractor to have it fixed. Cracks and completely missing sections of the roof will let water seep through. While these leaks might be small in the beginning, they will grow in size over time. Before you know it, you'll have to deal with serious structural damage. And if you don't act in time, you might even have to replace the entire roof.
Mold And Moss Growth On Shingles
Asphalt shingles are the perfect surface for moss growth. Moss especially loves growing in spaces between the shingles. If you don't regularly clean your roof, getting rid of moss can be pretty difficult. This is because it acts like a sponge, soaking up rainwater that can later seep into the roof underlayment.
If you don't act in time, the moss will saturate the roofing system and create a perfect environment for mold. And if you thought moss was bad, mold is much worse since it can negatively impact your health.
Before the roof of your Hinesville (GA) house/business can be assessed, whether it needs repairs or replacement, we advise you have it cleaned.
Leaks
Even a small leak can cause severe structural damage. What's more, water leaks provide a perfect environment for mold growth which can pose a serious health risk to everyone in the building.
Another less-known risk of roof leaks is fire. If water gets to electrical installations, it can cause a short circuit which can spark a fire.
Another thing you should be aware of is that insurance companies don't cover damages caused by gradual leaks. So if you have a roof leak, we recommend you give us a call. We use high-quality roofing materials and can fix just about any type of leak. Give us a call today for a free estimate!
Soft Or Rotten Roof Sheathing
Roof sheathing is a protective layer between the roofing material and the beams. It is there to prevent any moisture from reaching your home.
The sheathing is most commonly built out of plywood which is very susceptible to rotting and water damage. Although this layer is not visible. it is just as critical as the shingles on your roof. If it gets rotten or soft, it won't be able to support the weight of the roof, which can lead to serious structural damage.
Thankfully, you don't need a roofing contractor to see if your sheathing needs repairs or replacement. If you can see stains on your ceiling, peeling/cracking pain, or water stains on the rafters, you have a problem with your roof sheathing. Don't sit on this problem, give us a call and get a free estimate today. We guarantee expert roof work and affordable prices.
Old Roof
One of the most obvious signs of whether your roof needs repairing or replacing is its age. Roofs age differently. How fast a roof ages depends on a couple of factors, including roofing materials, installation, climate, and ventilation. However, in general, most roofs are designed to last for around 25 years.
If your Hinesville (GA) house or commercial building has a roof that's nearing the 25-year mark, you should consider replacing it. Sure, you can get a roofing company to do some maintenance and repairs, but that will only postpone the invertible. You will have to replace your roof sooner or later.
Visible Daylight Through The Roofing Boards
Sometimes a simple visit to your attic can give you a clear answer whether your roof needs repairs. If you see even a tiny amount of light seeping through your roofing boards, that's a sign of something wrong. If daylight can go through your roof, so can rain.
If you can see the light seeping through the roofing boards, give us a call immediately. We will conduct a free inspection and give you a detailed rundown of the next step in fixing the issue.
Corroded Roof Valleys
Roof valleys are those V-shaped channels that run along the inside angles of your Hinesville (GA) roof. Since they're made out of metal, they're prone to corrosion. This is especially true if you don't let tree leaves collect on them. While roof valleys have a fairly long lifespan, they can develop rust holes. If you notice any ceiling stains under the area where your roofing valley is located, you should give our roofing company a call.
Your Gutters Are Full Of Shingles
If you notice your gutters are full of shingle pieces, you have a serious roofing problem on your hands. Any roof that losing a lot of granules is nearing the end of its life and needs to be replaced.
Roof Repair Vs Roof Replacement
One of the most common questions we get is whether it's better to repair the roof or replace it.
Whether you should replace or repair your roof all depends on the extent of the damage. If you have a couple of roof shingles missing or a few small leaks, then all you need is a couple of simple fixes.
On the other hand, if you have paint cracking and peeling from your ceiling and your roof sheathing is starting to sag, then you should opt for a full replacement.
Roof Repair Benefits
There are two major benefits to roof repairs. For starters, repairs are more affordable than replacing the entire roof. If there are a couple of problematic areas on your roof, it's cheaper and easier to fix them rather than to replace the entire thing.
The second big benefit to roof repairs is that they can prolong the lifespan of your roof. With regular maintenance, you can get another 10 years out of your roof easily.
Roof Replacement Benefits
The biggest benefit of roof replacement is that it will boost your home's curb appeal. There's nothing more eye-catching than a new roof. If you're planning on selling your property, replacing the roof can sometimes double its value. And if you're not planning on selling your house/commercial property any time soon, a new roof will give you a piece of mind. Not only will you pay less for your energy bills, but you also won't have to worry about any maintenance costs any time soon.
If you have any further questions on whether your roof needs repair or replacement, feel free to give us a call. Our friendly staff will answer all your questions!
Roofing Contractors You Can Trust
With more than 35 years of roofing experience, you can expect nothing less than the best repairs and installation services and great customer service.
We have been in the roofing industry for more than 35 years. In that time, we've learned that there's nothing more important than providing superb roofing and customer service. This is why we'll do everything we can to ensure your roofing needs are covered.
We only use high-quality materials and the latest techniques to install and repair roofs. Moreover, all our technicians are constantly working on improving their skills as craftsmen so they can be sure you're getting the best possible service. This is what makes us the best roofing company in Hinesville, GA.