 Roofing - Pooler, GA - The Best Roofing Company in Town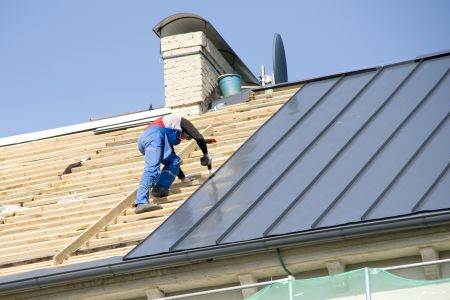 Professional Roofing Solutions is a full-service roofing company in Pooler, Georgia. Our company has the best roofers in the area - every customer will leave our company satisfied with the final product. Our contractors specialize in a great range of roofing services regarding roofing - roof installation, roof replacement, roof repair, custom gutter work, and so much more. If you are in need of a fantastic roofing contractor, keep on reading to see everything we have to offer!
Value Engineered Roofing Solutions
Professional Roofing Solutions has been delivering the highest quality roofing services for over two decades. If your property requires some high-quality residential or commercial roofing, our roofing contractors have what it takes in knowledge and experience. We have been the industry leaders for decades, and our certified roofing contractors in Pooler, GA, can install every type of commercial roofing system in a reliable manner. We will carefully consider the roofing techniques and technologies we're going to use to match your specific roofing needs. For top-tier service and the best results in town, look no further than PRS. Our company is here to protect your valued property - so feel free to reach out to schedule impeccable service and the best results, whatever you choose - repairs or a roof replacement.
Providing Top-Quality Roofing Services
Professional Roofing Solutions is an expert company on everything roof-related - from siding work to roofing and exterior systems. Our extensive experience allows us to find creative solutions for engineering projects that fit all roofing needs. In the circumstance that your property requires a high-quality solution, we have what it takes to make it your reality. Upgrading a home or business office is easy with our roofing company in Pooler, GA. We bring iron-clad warranty, superior materials, and the best service for all our customers.
So, we offer the services of:
Residential Roofing
Our great company is mainly hired for residential roofing. When you live in Pooler, GA, it's truly important to have your home fixed up in a timely manner and prevent any further damage. Luckily, Professional Roofing Solution is a company that can offer just the right roofing contractor for any residential roof work you need to be done. Whatever your roofing needs are - some regular maintenance, roof repairs, roof replacement, or roof installation, we can do quality work at affordable prices. We can also go through the catalog with you and help you pick the best materials for your roof. Our business goal is to provide a great service to all our customers, and if you aren't too sure about which materials to pick, we can help.
Commercial Roofing
Investing in a commercial building can be an exciting new venture, but a large business needs a lot of repairs - all the time. So, for commercial roofing, you will need to find a contractor that can help your business, not just a house - and Professional Roofing Solutions has the roofers for all your needs.
As a building owner, you must ensure that the property is safe for everyone. However, a poor roof with some hail damage can damage the entire building's construction, which is why fixing it up as soon as possible is essential. Roof repair is quick, and your business can be back to original in a day or two. On the other hand, if you leave your roof unattended, you can look at replacing the entire roof and sheathing in a couple of months, saving you a significant amount of money.
If you notice some damage or leaking, contact Professional Roofing solutions, and we can help your business return to normal with our roof repair services! Leave everything to us, and your new Georgia building will be safe in the hands of our contractors. Our company has the tools and the knowledge to fix whatever issue with your roofing you might be having!
Gutter Installation
Gutters might seem like the least important part of your roofing system, but gutters prevent damage to your roofing and your house or building. Our contractors are specialized in installing gutters and do amazing custom gutter work in Pooler, GA.
Poor gutters can endanger your house and you - as they can damage your roof and lead to it collapsing. It's truly important to ensure that you get quality gutters and, more importantly, that the gutters are properly installed. That s why our roofing contractors install seamless K-style gutters to ensure they look good on any house style. Our contractors pay special attention to the details, and they hand-miter every corner to make sure that there aren't too many seams.
So, if you need new gutters and custom gutter work, contact our office staff at Professional Roofing Solutions for free estimates on new gutters and roof work!
Helping You In Extending Your Roof Life
Call our great customer service at Professional Roofing Solutions if your roof looks damaged. Our factory-certified Pooler roofing contractors have the tools, training, and talent to locate roof damage and plan an effective repair solution. For over twenty years, we've been protecting homes in Pooler, GA, so allow us to bring our vast experience and knowledge to your roof repair project and do a wonderful job of the scheduled roofing work.
Your roof can withstand much, but it can still sustain sporadic roof damage, such as wood rot. If you suspect that the structure of your roof has been breached, let PRS perform an in-depth roof inspection and give you a free estimate. By quickly addressing the problem, our roofing professionals can restore the performance capabilities and extend the life of your roof. We aim to give you a fair estimate rather than charging an obscene amount for some small roof work. Our company relies on our stellar reputation and great service - we want every customer to leave PRS satisfied with our finished product. We never advise customers to get a new roof if they don't need one - we build every home project according to the inspection findings. We firmly believe that fixing an existing roof is almost always possible, but if your roof sustained plenty of damage, a new roof might be the only way to go about the roof project. Also, you can always get free estimates for roof work and compare quotes with other companies.
On the other hand, if your home and roofing are over two decades old and already look a bit run-down, it might be a good idea to schedule a roof replacement. Old roofing is a nightmare waiting to happen in a bad storm, so it could even put your life at risk. Just contact our customer service, and a contractor will come and check it out - it's better to replace your roof when you can rather than when you have to!
Safeguarding Your Roof In Every Situation
Roofing emergencies can happen anytime, and in case they do, turn to Professional Roofing Solutions. Among other things, we provide emergency service for our customers in Pooler, GA. Storms, especially with hail and home fires, can quickly damage the structure of the entire roofing system. Luckily, we react quickly when our customers call, and we can efficiently contain the damage and upgrade your roof to prevent further damage.
Your safety and the safety of your entire family are our number one priority at all times, so feel free to contact PRS when you need us most for a professional service. If you need our roofing contractors to come by and check out your roof, feel free to reach out using our website or contact our office. We are excited to help you with an honest evaluation, effective roofing services, and exceptional customer service.
Our roofing contractors are specialized in repairing all kinds of roof damage, such as:
Hail Damage
If your city or town went through a serious storm lately - a storm that produced hail, your roof could have sustained hail damage. This process is a piece of cake for homeowners' insurance, as every insurance covers hail damage. However, if you aren't sure whether your roof sustained damage, give Professional Roofing Solutions a call, and we will come to check it out and give you a free estimate of any harm if we find any!
Our company has vast experience working out good insurance claims - especially hail damage claims - so if you need help with a claim, just give us a call now, and we will take it from there!
Wind Damage
In Georgia, strong wind gusts can damage your roofing system. So, if there was strong wind recently in your town - with wind gusts of over 60 mph, you should schedule a free roof inspection with Professional Roofing Solutions in Pooler, GA. Suppose you see that your roof is peeling or missing shingles; give us a call as soon as possible. If you leave it that way for far too long, you could face your entire roof collapsing - and you certainly don't want that!
Lacking Shingles
When your roof is complete and intact - it does a good job of protecting your house's construction. However, if you are missing a couple of shingles, it can be enough to damage the entire structure of your roof and cause leaks. If a shingle is missing, it can leave other shingles open to water damage, which is why the missing shingles must be replaced as soon as you notice them missing. Contact our roofing company today for help!
Mossy Roofing
Moss on your roof might seem cute, adding that rustic appeal to your house, but it's important to remove moss regularly from your roof. Moss and algae on roofing can cause damage and rot - which is why it needs to be removed. Moss collects moisture, destroying shingles, which can result in your house sustaining more damage. So, if you notice some moss on your home, call us, and we will remove it for you and even inspect the sheating as it might be damaged, attracting moisture.
Exceptional Roofing Contractors And Excellent Customer Service
Professional Roofing Solutions is a company that takes special pride in providing builders, homeowners, and business owners with superb craftsmanship and superior roof work. Roofing professionals at PRS are the reliable and safe option for roofing, solar panel installations, siding, and gutter work. We bring the best licenses and certificates to the table, along with managing communication with customers to ensure we match their expectations.
Professional Roofing Solutions is a family-owned and operated company, and ever since its foundation, it's been serving the Pooler, GA, community. For decades, our team has been working with Southeast Georgia clients to build the roofing systems they desire. Besides roofing, we also complete quality siding work and hand-pick the industry-leading materials to ensure the home improvement we were hired to do. We have installed payment plans that work, as we want our happy customers to make the smart choice and contact Professional Roofing Solutions in Pooler, Georgia!
Do You Need Roof Work?
If you aren't too experienced with roofing systems, it can be hard to decide when your roof needs some work. If you can see some noticeable damage on your roof, that usually means your roof is severely damaged. We advise you to schedule a roofing inspection once a year, and you can even include a gutter cleaning to ensure that everything is in good shape. If your town had a hail storm, you should also schedule an inspection after the storm passes. Our contractors will give their honest opinion about the best course of action, and they will never advise you to have a roof replacement if it isn't necessary.
Regarding the materials used for a roof, we won't push you to get the most expensive materials. We exclusively work with top-of-the-line manufacturers that produce only the best roofing materials. So even if you pick out a more affordable roofing material, you can be sure that it's going to be long-lasting.
Professional Roofing Solutions offers free estimates, so call our office staff immediately if you are worried that your house sustained some wind or hail damage. Our contractors will come to perform an inspection quickly! Contact Roofing Solution Pros Today!
Finding independent contractors that will complete the desired roofing services can be challenging. Still, Professional Roofing Solutions in Pooler, GA, is the best choice if you need roof repairs or a roof replacement. We specialize in different kinds of roof services, including window replacement for our Pooler, GA, customers. We can also help with an insurance adjuster, as we work closely with every insurance company in Pooler, GA. So, if you need help getting financial aid from your insurance, we can help out. On the other hand, if you need service in Garden City, Richmond Hill, or Savannah, GA, you can contact our company owner and be referred to your closest unit!
Our superior customer service can schedule free estimates, and if you need your roof replaced, our top roofing contractors can help you decide between a flat roof or asphalt shingles. We also specialize in commercial roofing, so if you need a commercial roof fixed, you can call us to schedule an inspection or an intervention, and we will complete it in a timely manner!
Contact our Professional Roofing Solutions roofing company today for a free inspection of your roof!