 Professional Roofing Solutions: Pooler's First-Class Roofing Contractor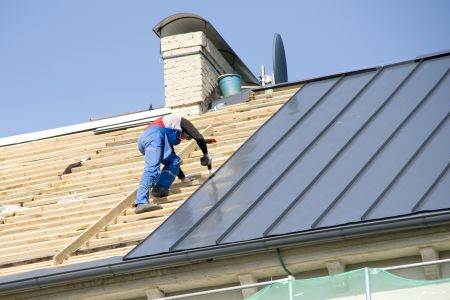 When it comes to taking the utmost care of your Pooler home or business, it's always a good idea to work with a top-of-the-line roofing contractor for the very best results. We know that selecting the perfect team to work with can sometimes be a difficult or overwhelming task, but we come with over thirty-five years of experience in the industry here at Professional Roofing Solutions. If you're ready to get started on addressing all your roofing needs, give us a call or fill out our online service request form today!
For our wonderful customers and clients in and around the Pooler area, you can count on us for any of the following top-quality roofing contractor services:
Commercial roofing types
Gutter cleaning
Gutter designs
Gutter guards
Residential roofing types
Roof inspections
Roof maintenance
Roof repairs
Roof replacement
Roof ventilation
Storm damage
High-Quality Roof Repairs For Homes And Businesses In And Around The Pooler Area
So what kind of professional roof repairs can we perform for your Pooler home or business? We can assist with loose, broken, or missing shingles, minor cracks, gaps, and leaks, and so much more. And if your roof needs more than a few localized repairs, we also offer high-quality roof replacements to help you get your roof back on track.
We don't just stop at Pooler when it comes to our services! Our team works hard to provide our expertise to as many homes and businesses as we possibly can, and that's why we've expanded our service area to cover multiple locations throughout the state of Georgia. If you see your area on the list down below, then we can get started right away on addressing your needs. If you don't see your location but you're still interested in working with us, get in touch today and we'll see what we can do for you!
Here's our current complete service area:
Brooklet
Garden City
Hinesville
Midway
Pooler
Riceboro
Richmond Hill
Rincon
Savannah
Statesboro
Need An Expert Roof Replacement For Your Pooler Property? Our Team Is Here To Help!
In most cases, there are two main reasons why you may need a roof replacement for your Pooler property, and no matter the cause, we're always here to help. For some people, a roof replacement is little more than a renovation to upgrade the look and feel of their rooftop.
We offer a number of roofing materials for you to choose from, and we're sure to find the perfect fit for you. For others, it's a matter of replacing a worn or damaged roof, and we've got you covered there, too.