 Gutter Guards To Help Keep Your Savannah Property's Gutters Flowing Smoothly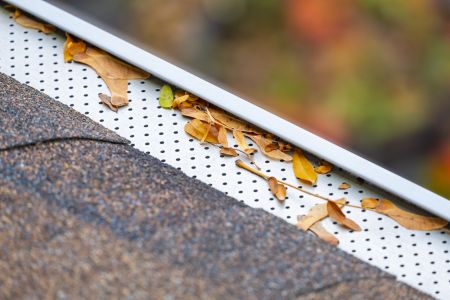 One of the easiest ways to keep your gutters in prime condition in between routine maintenance is with top-quality gutter guards installed by the team of experts here at Professional Roofing Solutions. If you find that sticks and leaves keep finding their way into your gutters, then gutter guards may be a great choice for your Savannah home or business. We only use the highest quality materials and equipment for all of our services, and your property will always be in the most capable of hands when you choose to work with us.
As the number one roofing contractor for Savannah homes and businesses, you can always count on us for absolutely flawless results at an affordable price point. Give us a call at 912-667-2225 today to learn a little more about what we do here at Professional Roofing Solutions and how we can help!
Protecting Your Gutters From Organic Clogs
The easiest and most efficient way to prevent sticks, leaves, and other organic debris from clogging up your gutters is by installing gutter guards for your Savannah home or business. Gutter guards are an excellent protective measure to prevent your gutters and downspouts from becoming clogged. They're built to allow rainwater to flow through while the mesh top prevents debris from getting in, allowing your entire gutter system to work at maximum efficiency no matter the weather.
Looking for an expert helping hand to take on the task of cleaning out your gutters? We offer professional gutter cleaning to help home and business owners cross this arduous task off their to-do lists!
Why Gutter Guards Are A Fantastic Choice For Any Home Or Business
So why should you install gutter guards for your Savannah home or business? While they're certainly not an absolute necessity, they come with a whole host of benefits that will make your life easier in the long run. If you find routine gutter maintenance to be a chore that consistently gets put off while making the rounds of your regular upkeep schedule, then these are likely a great fit for you and your property.
Here are just a few reasons why you should consider installing gutter guards for your home or business:
They help prevent clogs and improper water drainage
They help keep your entire gutter system running smoothly
They reduce the amount of manual maintenance you need performed
They reduce the chances of mold development and pest infestations