 Top-Notch Roof Replacement To Protect Your Savannah Property For Decades To Come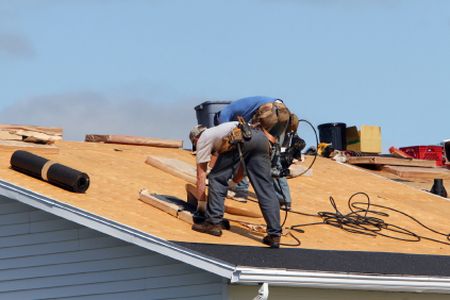 There are generally two primary reasons why you may need a roof replacement for your Savannah home or business: upgrading the look and feel of your rooftop for aesthetic reasons or because the damage to your rooftop is simply too extensive for localized repairs. No matter why you may need this service, our team of experts will treat you and your property with the utmost care and respect. Embarking on a roof replacement journey can be a little overwhelming regardless of the reason for it, but we'll always do our absolute best to make the experience an enjoyable one from start to finish.
As the leading roofing contractor for Savannah and the nearby areas, you can always trust in us to deliver incredible results at a competitive price point that won't break the bank. Give us a call at 912-667-2225 today to learn more!
Professional Roofing Solutions: Your New Roof Installation And Re-Roofing Specialists
No matter why you're looking into total roof replacement, you can always depend on us to deliver a top-of-the-line experience for you and your Savannah property. Our roof replacement service is highly comprehensive—we'll walk you through every step of the process from the initial inspection all the way to the final installation. We'll begin by identifying and addressing any damage to your rooftop, and then we'll help you select a roofing material that perfectly suits your needs and budget. Lastly, we'll perform a flawless installation that will leave you with a brand-new rooftop that looks and feels absolutely amazing.
In the market for expert roof repairs at an affordable price? We can help fix a few broken shingles or repair a minor leak or two, so be sure to get in touch with us today to get started!
Why A Total Roof Replacement May Be Necessary For Your Home Or Business
As we mentioned before, there are generally two reasons why a roof replacement may be necessary. In the case of an aesthetic upgrade, it's more of a renovation project rather than a restoration effort. If you're not into the whole look and feel of your rooftop and you feel a different material or an upgrade to the existing one will make your space feel more your own, we can certainly help with that.
In the case of damage, a roof replacement is usually recommended when the issues at hand can't be fixed with a few localized repairs. A few broken shingles are one thing, but if high winds or a heavy storm have all but ripped your entire rooftop clean off, then a replacement is likely necessary to ensure that your property is in perfect working order.